"the kind of work nobody else in Milwaukee does"
"material this good and delivered this well"
… a stirring defense of poesy and of collaborative artistic productions, which join artist and audience and transform every monologue into a conversation – of the sort that material this good and delivered this well is bound to sustain, long after the lights come down and we walk back out into the night, no longer alone.
"one of the best things staged all season"
Theatre Gigante pre-empts its own 32nd Season Opener, The Beggar's Opera, with a monologue performance by Gigante Artistic co-Director Mark Anderson, at the upcoming Fourth Milwaukee Fringe Festival.
I JUST WANT TO SAY… features excerpts from three of Anderson's twisted, witty monologues: 80 Words for Snow (1986), Who (1995), and White Clown (1999). The solo performance takes place at 3:30pm, Saturday, August 24, in the Todd Wehr Theatre at the Marcus Center.
For over 30 years, Mark Anderson has been writing and performing monologues that playfully and poetically examine the anxieties and harmonic tremors of modern living. His work has been seen in many cities across the USA, including Houston, San Diego, Los Angeles, Seattle, Chicago, New York City, Boston, D.C., Atlanta, and closer to home, Milwaukee, Madison, Appleton, Green Bay and Sheboygan.  He has toured with PS122 Field Trips, has received several commissions for new works, and has twice earned the Wisconsin Arts Board Interdisciplinary Arts Fellowship. His book of monologues, Making a Living, was published by Woodland Pattern. He has performed six of his monologues under the auspices of Theatre Gigante.
What critics have said:
Washington Post – Alan M. Kriegsman
Mark Anderson, tall and pencil-thin, is a natural wit whose mock metaphysical disquisition on the human life cycle pitted an almost schoolmasterish text and delivery against an undertone of wry, wistful and mordant observation.
Pittsburgh Press – Lynne Conner
Anderson's "speaker" moved through a self-conscious stream of observations on the big themes – birth, marriage and death – with a calculated humility…
Milwaukee Magazine – Paul Kosidowski
Anderson has a knack for making "the everyday" interesting—and even pleasantly perplexing. When he talks about art, after all, he is talking about decades of a life devoted to it—its questions, joys, challenges and frustrations. And, of course, its rewards. …it is informed by artistry, thought and reflection—the willingness to discover or uncover something new, original and even beautiful.
Third Coast Daily – Tom Strini
Time seemed to stop within Anderson's loopy, spiraling mind — and yes, we were as much into Anderson's brain as he was into ours.
Milwaukee Journal Sentinel – Mike Fischer
…material this good and delivered this well is bound to sustain, long after the lights come down and we walk back out into the night, no longer alone.
I JUST WANT TO SAY…
Saturday, August 24, 2019, at 3:30pm
Todd Wehr Theatre, Marcus Center for the Performing Arts
ticket information:  http://mkefringe.com/tickets/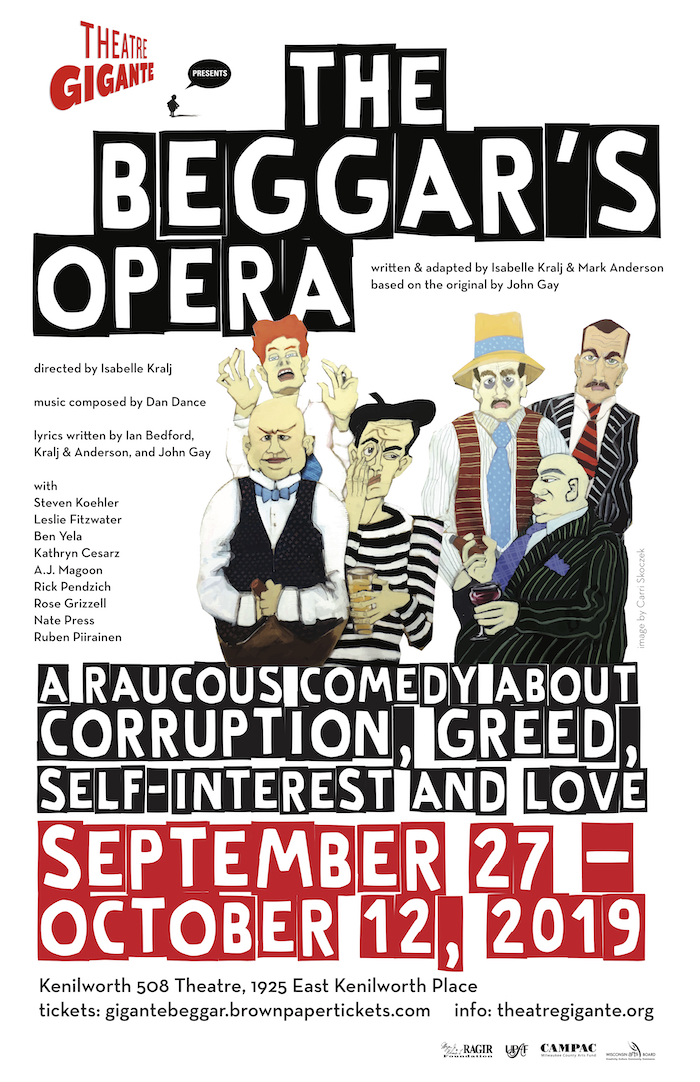 scenic art by Carri Skoczek
lighting design by Eric Appleton
costume coordination by Marion Clendenen-Acosta
stage manager | Matt Norby
technical director | Bo Johnson
technical staff & board op | Sam Fitzwater-Butchart
THIS PRODUCTION IS MADE POSSIBLE IN PART BY
Wisconsin Arts Board with funds from
the State of Wisconsin and the National Endowment for the Arts
United Performing Arts Fund
Milwaukee County CAMPAC
Meyer J. & Norma L. Ragir Foundation
Jane Kaczmarek
The Rensenhouse Family Foundation
For ticket information, please click here.
If you would like to support Theatre Gigante with a donation, please click here.
Theatre Gigante is pleased to announce its 2019-2020 Season!
The Season opens with THE BEGGAR'S OPERA, written and adapted by Isabelle Kralj & Mark Anderson. Directed by Isabelle Kralj and based on the original by John Gay, this raucous comedy about corruption, greed, self-interest and love runs September 27 – October 12, 2019 in Kenilworth 508 Theatre. 
The Season continues with CRAVE, an enigmatic, thought provoking, and darkly poetic play by British playwright Sarah Kane.  The evening, directed by Isabelle Kralj, will include music performed by saxophonist Aaron Gardner & friends.  CRAVE runs March 12-15, 2020 in the sweeping, beautiful Jan Serr Studio on the 6th floor of UWM's Kenilworth Building.
The Season will close with a collaboration between Kralj & Anderson and Alessandro Renda of Teatro delle Albe (Ravenna, Italy), which will premiere in Milwaukee May 8-17, 2020 in Kenilworth 508 Theatre.  Gigante is thrilled to be collaborating with Renda – Gigante audiences will remember his powerful performance in RUMORE DI ACQUE.  Look for the title and other details TBA!
Theatre Gigante is supported in part by grants from
Wisconsin Arts Board
United Performing Arts Fund
  Milwaukee County CAMPAC
Meyer J. & Norma L. Ragir Foundation

*******
For more information, contact gigante@theatregigante.org
June 5, 2019
Dear Gigante Friend!
We are very excited to announce that Theatre Gigante is ready to forge into its 32nd Season, and we have some first-rate, fabulous productions planned for you, which will be announced very soon!
But first, we need your help.
Why do we need your help?
Because Wisconsin is 48th in government funding of the arts, giving $0.13 per capita, while our neighbor Minnesota gives $6.35 per capita!
Because last year, for instance, 15% of our budget was covered by ticket sales, 20% by outreach programming, 10% from government funding, 3% from UPAF — and the rest came from the generosity of our donors;
And because we have some kick-ass productions planned for next year that need your support!
Theatre Gigante has always operated in the black – throughout all of its 32 years!  It has proven itself to be fiscally responsible.  It has also proven itself to be innovative in producing countless, critically acclaimed productions on quite low budgets.
BUT, it is getting to be more and more financially challenging.  Prices are going up across the board, and in order for us to continue producing high-quality and thought-provoking productions, we need to grow our budget.  Theatre Gigante's goal is to double its budget over the next three years – and there is no better place to start than with you; it is you who make it all possible, in the first place, by generously contributing to the company and by attending Gigante shows!
We thank you for that, and respectfully ask you to contribute once again…and to perhaps consider increasing your contribution.  We, in turn, pledge to you that Theatre Gigante will continue presenting original and innovative theatre, hiring local artists, designers, composers, and technical staff, while also introducing established national and international artists and productions that would otherwise not be seen in Milwaukee.
Together we can continue bringing meaty, stimulating, and intriguing theatre to the stage!
Thank you for your time and consideration, and for all your generosity and kind support!
Isabelle Kralj                                                                 Mark Anderson
TO MAKE A DONATION TO THEATRE GIGANTE, CLICK HERE
In 1882, Henrik Ibsen wrote to his publisher, "I am still uncertain as to
whether I should call An Enemy of the People a comedy or a straight drama. It may have many traits of comedy, but it also is based on a serious idea."
That just about sums up Gigante's romp!
Come join the fun!
giganteenemy.brownpapertickets.com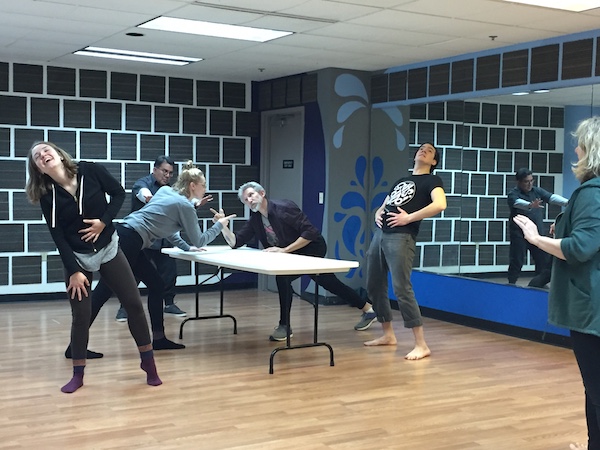 Performers Hannah Klapperich-Mueller, David Flores, Katie Gesell, Ron Scot Fry, Ben Yela – and Artistic Director Isabelle Kralj.
Theatre Gigante's ENEMY OF THE PEOPLE features six songs written and composed by Jason Powell, including "Not A Hero" sung by the cast and accompanied on guitar by Ben Yela, which you can watch by following this link.
for information on the show, click here
ANOTHER BRAND NEW GIGANTE WORK!
inspired by Henrik Ibsen
ENEMY OF THE PEOPLE
adapted, created, directed by 
Isabelle Kralj
text written by 
Isabelle Kralj 
& 
Mark Anderson
music written by 
Jason Powell 
and 
Frank Pahl 
& others
lighting and set design by Alan Piotrowicz
costumes by Marion Clendenen-Acosta
Performed by
Emmitt Morgans   David Flores   Ben Yela
Leslie Fitzwater   Ron Scot Fry
Hannah Klapperich-Mueller   Katie Gesell
February 8-16, 2019
Kenilworth 508 Theatre

The Super Blood Wolf Moon was great…but nothing compared to the fun we're having in rehearsals for Theatre Gigante's ENEMY OF THE PEOPLE, February 8-16, 2019,
at Kenilworth 508 Theatre.
Come join the fun!
WITH GRATITUDE, WE LOOK BACK AT HOW
GIGANTE SPENT OUR 30th SEASON WITH YOU!
We at Theatre Gigante look back very fondly at our 30th Anniversary Season – which was wonderfully ambitious, successful, and full of interesting and innovative projects!
Beginning with August 2017, Gigante participated in Milwaukee's 2nd Fringe Festival by presenting Frank O'Hara's LEXINGTON AVENUE, set to music by clever, playful and talented Jason Powell, and charmingly performed by Jason, and Erin Hartman!
In September & October, Gigante's production of I Am My Own Wife, written by Doug Wright, premiered under the direction of Isabelle Kralj, and was exquisitely performed by Michael Stebbins.  This one-man play, which won the 2004 Pulitzer Prize for Drama, was a wonderful vehicle for Michael, who beautifully embodied Charlotte von Mahlsdorf, and some forty other characters in a tour de force performance!
November brought another triumphant performance, 7(x1) Samurai, created and performed by David Gaines, a graduate and former teacher of the Jacques Lecoq International Theatre School.  David dazzled the audience with his one-man interpretation of Kurosawa's film Seven Samurai, in which he deftly and hilariously played, not only many characters, but entire armies.  It was a marvel to behold!
January and February brought the world premiere of Metamorphosis, created and directed by Kralj, inspired by Franz Kafka's novel of the same title.  Hailed by audiences as perhaps Gigante's finest work to date, the stellar cast, which included dancer Edwin Olvera and actors Ben Yela, Selena Milewski, Hannah Klapperich-Mueller, and Ron Scot Fry wowed audiences with their superb and precise performance of this captivating hybrid work in Gigante's typical style.  Performances were met with spontaneous standing ovations, and perhaps one of the longest post-performance talkbacks ever recorded J.  Stimulating, lively, and thought-provoking discussion with the audience lasted as long as the performance itself, inspiring all of us involved in the production!
February also brought about another season of Gigante's ever-so-popular performance, Peter & the Wolf & the One Man Band, performed for 1st graders throughout Milwaukee and Waukesha Counties through the Milwaukee Symphony ACE (Arts in Community Education) program.
In March, Gigante delighted audiences with Slovenian playwright Rok Vilčnik's Tarzan, performed by Kralj, Mark Anderson and Don Russell.  This wildly funny, yet incredibly poignant, play covered the whole gamut of human [and animal] issues and emotions, through the eyes and experiences of an aging Tarzan and Jane, and a talking hyena named Mike.  The Slovenian Consul General, Mr. Andre Rode, attended the opening night performance.  Rok Vilčnik made the trek all the way from Slovenia to be a part of the opening weekend festivities, which included a WUWM interview and a post-performance talkback in which he charmed audiences and performers alike!
March also initiated a brand new Gigante children's show, performed for 3rd graders (also through the Milwaukee Symphony ACE Program), titled Building Theater the Gigante Way.  This program teaches children, through poetry, to look at theater with a more holistic approach, using the tools of text, music and movement in various combinations.  The schools liked it, and the show has now been added to the ACE roster of performances!
April was a good month for a reading of Spalding Gray: Stories Left To Tell at the dynamic and exceptional retirement community of St. John's on the Lake.  The delightful reaction, and lively talk-back that followed, inspired the scheduling of Spalding Gray: Stories Left To Tell in this current 2018-19 Season!
June was rich and exciting, as Anderson performed one of his witty and clever monologues, Retrospeculative, at a reunion at Grinnell College in Iowa.  The engaged audience rewarded Mark with awesome and insightful post-performance commentary.  A good time was had by all!
A good time, in June, was also had by Kralj et al, as she participated in Door Shakespeare's 2018 summer season.  Kralj choreographed the production, Much Ado About Nothing, directed by Joe Hanreddy under the able and loving eye of Michael Stebbins, the newly appointed Artistic Director of Door Shakespeare!  Also involved in the production was Gigante regular Ben Yela, who performed in Much Ado About Nothing and Comedy of Errors.
As you can see, the 2017-18 Season was productive, successful and wildly eclectic – reaching various audiences, of various ages, in various places.  This all comes about because of you!  Your contributions and attendance to our events make it all possible, and we are forever grateful that we have the pleasure and honor of creating and inventing new theater with you, and for you!
Please consider continuing to partner with us in the creation and presentation of original art by giving a tax-deductible donation in this 2018-19 Season!
Have a warm, cheery, peaceful, delightful, magical, graceful,
elegant, magnificent and beauteous Holiday Season!
HAPPY HOLIDAYS!     HAPPY NEW YEAR!
Mark Anderson–Deborah Clifton–John Kishline–Isabelle Kralj–Jill Anna Ponasik
MARK ANDERSON, Artistic co-Director of Theatre Gigante, has been writing and performing monologues, plays and performance art pieces, for forty years, mostly in Milwaukee, and elsewhere in the U.S. In 1996, he began working with Isabelle, and since then they've written, developed and produced loads of productions for Gigante. Mark has received two Wisconsin Arts Board Artist Fellowships.
DEBORAH CLIFTON has been performing and co-creating work for over 40 years.  She has performed in the United States, Europe, Japan, and India.  Deborah was a part of Theatre X for decades and has performed with many other companies, including Theatre Gigante!
JOHN KISHLINE is an actor, director, playwright and designer in theatre, and his design work won an OBIE in New York.  He has served in over 190 productions in the United States, Europe, Japan, and India, created over 40 works, and was a founding member of Theatre X.  John has performed with Theatre Gigante in numerous productions!
ISABELLE KRALJ is the Founder and Artistic co-Director of Theatre Gigante.  She has been directing, writing, choreographing and performing for forty years, and has created over forty works alone, or in collaboration with Mark Anderson. Her work has been seen in various cities across the U.S. and in Europe. She is the recipient of a Choreographic Award from the Wisconson Arts Board and a Lifetime Achievement Award from the University of Wisconsin-Milwaukee's Slovenian Arts Program.
JILL ANNA PONASIK is appearing with Theatre Gigante for the first time!  She is the Producing Artistic Director of Milwaukee Opera Theatre and the Artistic Associate of Skylight Music Theatre. She has worked with numerous companies in the United States, and is currently developing and directing many projects and productions in Milwaukee!
Get your tickets now!!!
Spalding Gray (1941-2004) was an actor and a writer, best known for his monologues, wherein he told humorous, poignant, personal stories based on his life, mostly while sitting at a table, sipping from a glass of water, talking into a microphone. He described his writing as "poetic journalism," in that he did relate what had happened, but with a bit of editing or embellishment – as seemed fit.
x
Spalding achieved fame with his monologue SWIMMING TO CAMBODIA, made into a film by Jonathan Demme in 1987. The success of that film boosted his career, leading to more film acting roles, which also took him away from his work with The Wooster Group, an experimental theatre company in New York. But he kept doing his monologues, MONSTER IN A BOX, GRAY'S ANATOMY, IT'S A SLIPPERY SLOPE, MORNING, NOON AND NIGHT, and others — many of which have been published, the last being LIFE INTERRUPTED.
x
In 2001, on a trip to Ireland, the vehicle he was riding in was hit by a truck, and Spalding suffered multiple injuries, including a fractured skull, which caused brain damage, and depression. While undergoing treatment, he kept working on new material, performing bits of it in-progress. Along the way, he found he couldn't perform like he used to. His depression led to thoughts of suicide, including attempts. One night in January 2004, he succeeded, jumping off the Staten Island Ferry into the East River. His body was found two months later.
x
A few years after Spalding died, his widow, Kathleen Russo, and theatre director Lucy Sexton, assembled a script made of excerpts from his monologues, his journals, and letters. The texts were organized into five topics that were important to Spalding: Love, Family, Adventure, Journals, and Career, performed in our production by Isabelle Kralj, John Kishline, Mark Anderson, Deborah Clifton, and Jill Anna Ponasik.
x
Gigante's production of SPALDING GRAY: STORIES LEFT TO TELL takes place November 15-18, 2018 at Kenilworth 508 Theatre (1925 E Kenilworth Place).  Performances are Thursday, Friday and Saturday at 7:30, Sunday at 2:00.
x
On Friday and Sunday, there will be a post-show talkback about the production, but also about mental health, brain injury and suicide, with local psychologists. We want to acknowledge this difficult part of the story, but also celebrate the bright parts of Spalding's life.
x