Isabelle Kralj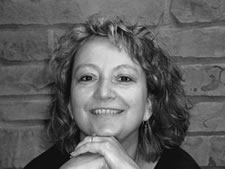 Isabelle Kralj is the Founder and Co-Artistic Director of THEATRE GIGANTE (formerly Milwaukee Dance Theatre), the performance company she founded in 1987. Throughout her extensive career, she has established herself as a dancer, choreographer, theatrical performer, theater director, and auteur of interdisciplinary theater pieces. Her career as a dancer includes the Slovenian National Theater Ballet, The Milwaukee Ballet, Chamber Dance Theater, and Dance Opus 6. Kralj has performed in Germany, Austria, Italy, Croatia, Slovenia and throughout the United States.
Kralj has an MFA in dance (UWM) and has established herself as a respected teacher of dance at UWM and Alverno College, and in residencies throughout Wisconsin, in Boston, MA and Slovenia. She has also taught for First Stage Milwaukee, MDT School, John Michael Kohler Arts Center, and is currently at University School of Milwaukee, where she has implemented a dance program.
Some of the companies she has worked with include Present Music, Milwaukee Symphony Orchestra, Milwaukee Repertory Theater, First Stage Milwaukee, the former Theatre X, UW-Milwaukee, UW-Whitewater, John Michael Kohler Arts Center, and Suffolk University. She created outreach programming for the deaf and hard of hearing, the Foster Care Board, MPS Schools, and has been a part of the Milwaukee Symphony ACE Program for numerous years.
She was the first foreigner to be invited to choreograph for the annual Gala Evening of New Choreography in Slovenia, and was subsequently invited for the 6th, 8th and 9th Gala Evenings, and for the Slovenian Ballet Association's 2007 Award Ceremony honoring internationally renowned choreographer Milko Sparemblek.
Kralj received a New Choreography Award from the Wisconsin Arts Board, and the award of High Artistic Achievement from the University of Wisconsin-Milwaukee Slovenian Arts Council and several grants from the US State Department Embassy in Slovenia.
She began creating work in 1985, and in 1996, began collaborating with Anderson, with whom she has created over 20 works.
Mark Anderson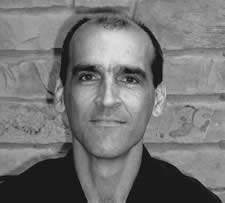 Theatre Gigante Co-Artistic Director Mark Anderson is an artist based in Milwaukee whose work as a monologist, playwright, and interdisciplinary artist has been seen in over thirty cities around the country.
Anderson and Gigante founder Isabelle Kralj began working together in 1996, and since then have co-created twenty original productions, including: THE BEGGAR'S OPERA, THE PERFECT CANDIDATE, MAN IN A MAGIC SQUARE, ANTIGONE, THE INITIAL URGE TO SUCK; FAIR & BALANCED; MY DEAR OTHELLO…; MY ELEPHANT DREAM; PETRUSHKA; TEN MINUTES TILL BEDTIME; HE, SHE AND GUY; IT'S A WONDERFUL LIFE. Additional Gigante shows, as performer, include: WOYZECK by James Butchart (Woyzeck); and THE MUSEUM OF LIFE AND DEATH by Andy Kirshner (Everyman). Anderson has also written and performed monologues on Gigante programs, including I'M A PERFORMER; DISLOCATED; WHITE CLOWN; PARADISE.
Anderson has also worked as a soloist, or in collaboration, with many other Milwaukee performing artists and groups, including Present Music, Wild Space Dance Company, Inertia Ensemble, Boulevard Ensemble, Renaissance Theaterworks, and many times with Theatre X. Theatre X productions include: SHORT PLAYS BY BECKETT, director of PLAY and BREATH; BENEATH THE OVAL OFFICE, director/co-writer (with John Kishline); JANE, BETH, CHARLES, LUCY, SIDNEY AND FRANK, writer/director/performer; QUORUM, writer/director; and TOUTE UNE NUIT, writer/director.
He has been commissioned by the John Michael Kohler Art Center in Sheboygan, Wisconsin, to create site-specific performance works in 1994, 1996 and 2002, and in 1995, wrote, directed and produced a ninety-minute entertainment for the Pabst Theater Centennial Ball.
Anderson's monologues derive from personal experience and reflection, and use humor and movement to articulate anxieties of modern living. He has performed solo many times in Milwaukee, and in twenty other cities, including Madison, Chicago, Buffalo, New York, Houston, Los Angeles and Seattle. He has received numerous grants and commissions, including the Wisconsin Arts Board Interdisciplinary Arts Fellowship in 1990 and 1992, and was twice selected for inclusion in the Wisconsin Triennial Exhibition at the Madison Art Center.
Born in Milwaukee in 1955, he received his BA in Theater from Grinnell College, Iowa, in 1977; moved to Seattle for seven years, and returned home in 1985. After earning his MFA from the University of Michigan School of Art & Design, he taught at UW-Milwaukee, Alverno College, and presently teaches at Milwaukee Institute of Art & Design.