Theatre Gigante presents …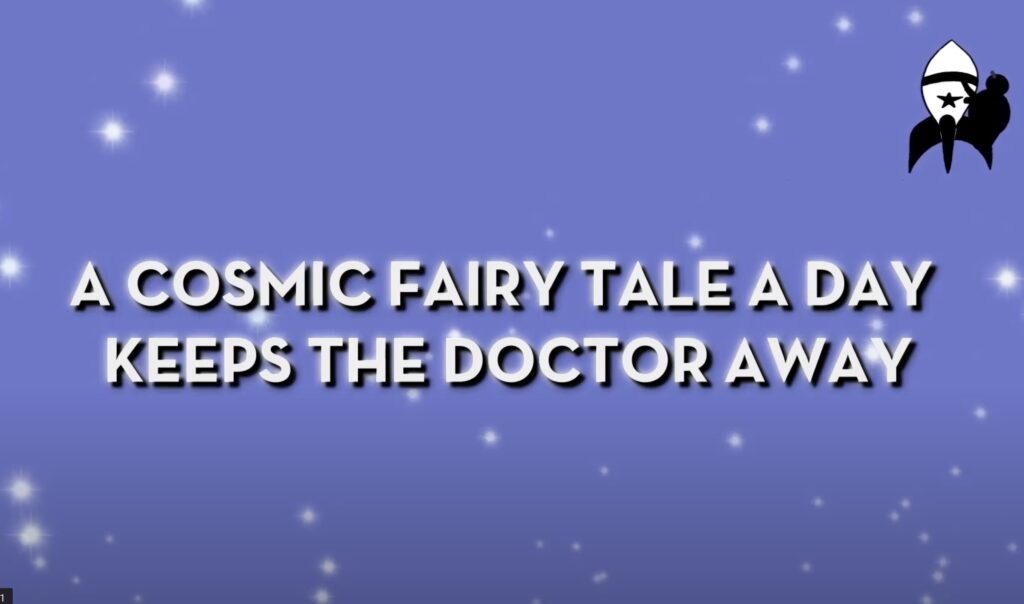 Written by Rok Vilčnik
Conceived and Directed by Isabelle Kralj
Visual Art and Production Design by Justin Thomas
Music by Frank Pahl
Production Manager Mark Anderson
Technical Assistants Caulden Parkel and Anna Bundy
Translations by Students of Translation Studies at the Faculty of Arts, University of Maribor, primarily Ana Arnejčič and Nejc Golob, under the mentorship of Professor Melita Koletnik.
Translations revised and edited by Isabelle Kralj
Stories told by
Frank Pahl, Ron Scot Fry, Sadé Ayodele, Craig Quintero, Jason Powell, Nathan Danzer, Rose Grizzell, Peter Mulvey, Christine Zufferey
(excerpt from original 31 Cosmic Fairy Tales)
About the Project
A COSMIC FAIRY TALE A DAY KEEPS THE DOCTOR AWAY
Inspired by the quest for staying healthy through the COVID-19 crisis, and the idea of Giovanni Boccaccio's Decameron (tales told by a group of women and men as they sheltered in a secluded villa in order to escape the plague), Theatre Gigante created the virtual project A COSMIC FAIRY TALE A DAY KEEPS THE DOCTOR AWAY. A collection of sparkling fairy tales written by Slovenian playwright Rok Vilčnik, visual artistry and production design by Justin Thomas, with music by Frank Pahl, direction by Isabelle Kralj, and performances by nine luminous storytellers from Milwaukee to California, from Boston to Chicago, to Taiwan and France. Nine winking, blinking, curious Fairy Tales in the cosmos, offering uniquely bizarre adventures in search of the earthling heart in all of us.
The Cosmic Fairy Tales invoke and address humanity's dreams and aspirations, and some of life's bigger questions. With cleverness and a sense of humor they look to the cosmos to portray our world – what it was, is, and could be. Orbs of various sorts, creatures, ghosts, beginnings, endings, questions, answers, are all brought to life in delightful, witty ways with a deep understanding by the author of what it means to be human.
In the last tale, a poet writes a poem in which we all come together.
A COSMIC FAIRY TALE A DAY KEEPS THE DOCTOR AWAY is just such a poem in a larger sense. In this difficult time of a raging pandemic, through a clever author, an innovative creative team, delightful storytellers, and you, the audience – it is just the right time, and just the right production, for all of us to come together!
About the Author
ROK VILČNIK
ROK VILČNIK also known as rokgre, is a Slovenian writer, playwright, poet, songwriter and screenwriter, living in Maribor, Slovenia. He started his career as a painter and earned a BEd in fine arts. Due to a hand injury his career took a turn. He started writing and has been a freelance writer ever since. Over thirty productions of his plays have been produced internationally in over six countries. In addition, he has penned three radio dramas, four television series, three books of poetry, three novels, and three children's plays. Rok is also a founding member of the popular Slovenian bands Patetico, Papir, and Pliš, and a songwriter for various Slovenian singers. He was recognized by the city of Maribor for his cultural achievements, particularly for his book of plays, titled American Trilogy, with the Glazer Charter award. Vilčnik is also a three-time recipient of the Grum Award for Best New Slovenian Play, and a recipient of the Slovenian Noble Comediographer award, and twice a recipient for Best Comedy. Rok Vilčnik's TARZAN is in Theatre Gigante's repertory and was performed by Gigante in Milwaukee during the 2017-18 Season, and in Slovenia in 2019 at the International Slovenian Auteurs Theatre Festival.
About the Director
ISABELLE KRALJ
ISABELLE KRALJ, founder co-Artistic Director of Theatre Gigante, works as an auteur, director, choreographer, and performer. Besides Gigante, she has directed and/or choreographed for, among others, Milwaukee Symphony Orchestra, Milwaukee Repertory Theatre, First Stage, DBUS (Ballet Assn. of Slovenia), Florentine Opera, and Door Shakespeare. Abroad, she has performed in Slovenia, Italy, Croatia, Austria, and Germany. She has written/created over seventy works, many of them in collaboration with Mark Anderson. Isabelle has an MFA and has received a New Choreography Award from the Wisconsin Arts Board, the award of High Artistic Achievement from UWM's Slovenian Arts Council, and grants from the US State Department, U.S. Embassy in Slovenia, and the Slovenian Ministry of Culture.
About the Visual Artist and Production Designer
JUSTIN THOMAS
JUSTIN THOMAS is associate professor of theatre and design and chair of the theatre and dance department at Grinnell College. He holds a Master of Fine Arts in theatrical design from the University of Maryland and a Bachelor of Arts in theatre and communication from Kalamazoo College. At Grinnell, Thomas has been able to pursue two of his greatest passions: teaching and making theatre. Thomas' courses run the gamut of theatrical design and technology, theatre history, dramatic literature, and disability, accessibility, and inclusive arts practices. As a professional designer, his work includes lighting, scenery, and projections, which have been produced by the Lincoln Center, Studio Theatre, Arden Theatre Company, Woolly Mammoth Theatre Company, Round House Theatre, Olney Theatre Center for the Arts, Farmers' Alley Theatre, Theatre Gigante, Happenstance Theatre, the 21st Century Consort, the Washington National Cathedral, Daniel Phoenix Singh/Dakshina Dance Company, Liz Lerman Dance Exchange, and John Britto Dance Company. Internationally, Thomas' work has been presented throughout India, Bangladesh, France, and Russia.
About the music
FRANK PAHL
FRANK PAHL is a Michigan-based musician/composer, working in several styles including "toy pop," or music made with toys. Frank chose to learn the euphonium (a smaller version of the tuba) in high school. This would be the first of many unusual instruments he would later add to his arsenal, including the harmonium (a pump organ), the ukulele, and the banjo, along with the clarinet, guitar, and piano. He works primarily in Wyandotte and Ann Arbor, Michigan, and has exhibited his work in Canada, Europe and Japan, as well as the United States. He has worked in several groups, including Only a Mother, Sublime Wedge, Immigrant Suns, Scavenger Quartet, a freeform musical group. "Sonic artist" is often the term used to classify Frank Pahl. Within his stockpile is a collection of toy instruments, a fascination that has developed into the toy-pop chamber trio Little Bang Theory, a "toy" music trio. The clever, innovative, and unique group is made up of three gifted artists: Frank, Terri Sarris, and Doug Shimmin. Frank is a frequent collaborator with Isabelle, Mark and Theatre Gigante, as is Little Bang Theory — definitely part of the Gigante family!
About the Production Manager
MARK ANDERSON
MARK ANDERSON, co-Artistic Director of Theatre Gigante, is an artist whose work as a monologist and playwright has been seen in over thirty cities around the country, including three years touring with New York's PS122 Field Trips. In 1996, Mark began working with Isabelle, and since then they have written and/or co-created over seventy original productions. He has worked with Theatre X, John Michael Kohler Art Center, Present Music, Grinnell College, and the Pabst Theater, among others. He has received numerous grants and commissions, including two Wisconsin Arts Board Interdisciplinary Arts Fellowships.
About Theatre Gigante
Founded by Isabelle Kralj and now in its 33rd year, Theatre Gigante enlivens the local performance scene with its unique style of theatre. Under the artistic direction of Kralj and Mark Anderson, Gigante brings original theatre to the stage and has a strong history of dynamic collaborations with locally, nationally, and internationally known musicians, visual artists, composers, and performers. The company has been in residence at institutions such as Suffolk University (MA), University of North Carolina–Greensboro, Grinnell College (IA), and the John Michael Kohler Arts Center; and besides Milwaukee, it has appeared in Chicago, NYC, and Boston, among other American cities; and in Slovenia, EU and in the 2019-20 Season, Gigante's escapades took the company to Ravenna and Milan, Italy for a two-month residency to work on a collaboration with Teatro delle Albe. Gigante is now surviving the pandemic with virtual presentations such as A PRISON MADE OF LIGHT, YOUR STORY, and A COSMIC FAIRY TALE A DAY KEEPS THE DOCTOR AWAY.