LITTLE BANG THEORY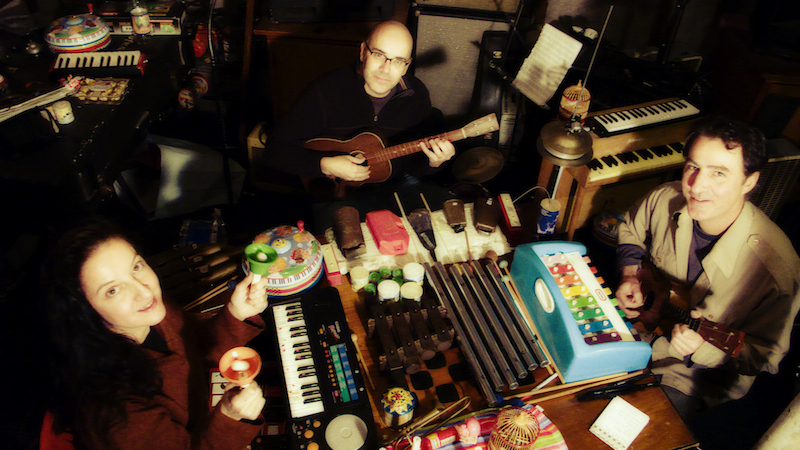 video links
Clowning Around
Music video for "Laugh, Clown, Laugh." Music composed by Frank Pahl,
performed by Little Bang Theory: Frank Pahl, Terri Sarris, and Doug Shimmin.
Film by Terri Sarris & Frank Pahl.
LBT at Museum of Contemporary Art Detroit
Little Bang Theory performs in Joshua White and Gary Panter's Light Show
"Sonic artist" is often the term used to classify Frank Pahl.  Within his stockpile is a collection of toy instruments, a fascination that has developed into the toy-pop chamber trio Little Bang Theory.
In Frank Pahl's words:  
I'm from Wyandotte, and I collect a lot of Wyandotte Toys, … which for many years was the largest tin toy manufacturer in the United States. My father worked for them. I've tried to get some information from him on the history of the company, but he doesn't think much of this toy collecting thing: "When are you going to get a real job?"
So for the past 10 to 15 years I've been collecting musical toys. I've written a little bit of music for toys, and I wrote a longer piece that I liked. One day, my partner Terri and my friend Claudette — I played them the music and I said, "We should all learn this, just as a whim." At first it was a reason for friends to get together and learn a piece of music.
At the time it was 10 minutes long. Every week I kept adding more and more material. The piece, "Toy Suite 2," is 26 minutes long. I ended up getting a Meet the Composer Grant to finish writing the music. Our second gig was a result of that grant. We performed at a music festival in San Francisco.
Little Bang Theory for some reason has worked a little less hard and gotten further [than my other projects], but maybe it's because the reason we started it was out of friendship, and you can still see that when we perform. We're having fun, and we hope the audience is having fun, too.
[excerpt from interview by Bill Chapin]
The Group: Terri Sarris, Doug Shimmin, and Frank Pahl
Theatre Gigante loves this fantastic, clever, and whimsical group, and plans on presenting many more delightful movie nights with them!
Presented by Theatre Gigante:
Little Bang Theory – Films by Ladislaw Starewicz (2015)
Little Bang Theory – Laugh, Clown, Laugh (2017)