During the pandemic, we will be taking the opportunity to reflect on past productions and the many wonderful composers and musicians we have had the honor of collaborating with and the pleasure of presenting. Beginning today, we will post links to the work of these wonderful artists – one at a time, every 2-3 days – so that we can all watch, listen, and enjoy.
First up, GUY KLUCEVSEK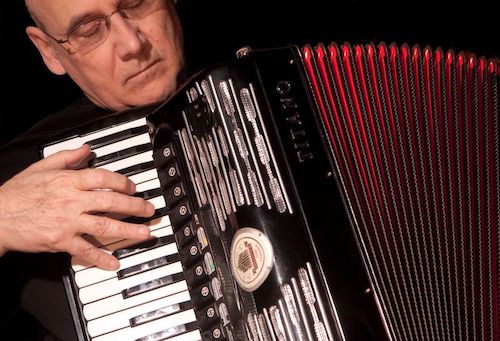 Theatre Gigante is in love with internationally acclaimed Guy Klucevsek, and has had the honor of presenting Guy in quite a few Gigante productions!
Dances with a Button Box (1997)
10th Anniversary (1998)
Man in a Magic Square (2009)
O.O.T. (2012 – recorded music)
Guy Klucevsek Solo at Paddy's Pub (2013)
Rumore di acque (2015)
Guy Klucevsek in Concert with guest violinist Eric Segnitz (2016)
The Seattle Weekly
Guy Klucevsek is one of the world's most versatile and highly-respected accordionists.  Forget everything you thought you knew about the accordion.
CMJ
If you ever get a crack at hearing him live, sell whatever it takes to raise the funds to get there!
Downbeat
A rebel with an accordion…Klucevsek combines poker-faced wit and imagination with command of his instrument, forcing you to re-think the accordion's limitations.
Philadelphia Inquirer
The music expressed was complex, sly, virtuosic, and deeply felt and imaginative.
Milwaukee Journal Sentinel
Klucevsek is a musical Orient Express whose themes pass from Hungarian gypsy to Slovenian waltz to Middle Eastern wail without stopping at the borders.
For more: www.guyklucevsek.com