During the pandemic, we will be taking the opportunity to reflect on past productions and the many wonderful composers and musicians we have had the honor of collaborating with and the pleasure of presenting. Beginning today, we will post links to the work of these wonderful artists – one at a time, every 2-3 days – so that we can all watch, listen, and enjoy.
FRANK PAHL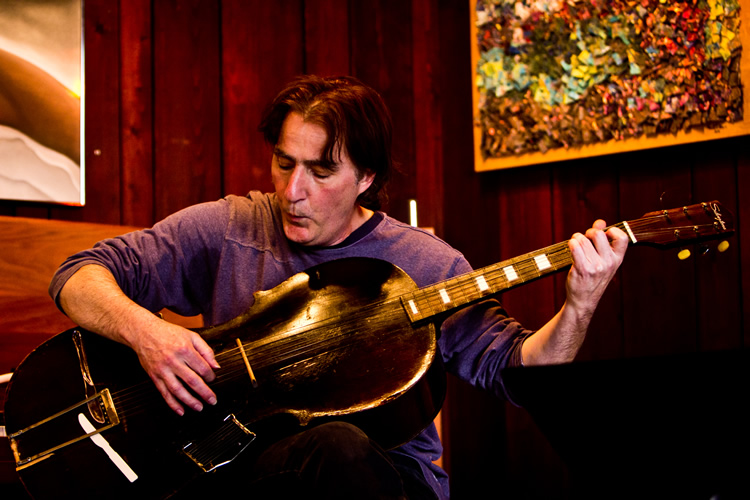 Video links:
Warped 17  composed by Frank, played with the group Only a Mother
Lost Cork  composed and recorded by Frank
Lolita Ya-Ya  composed by Frank, all instruments played by Frank – used here by a Singapore agency to sell fruit juice in China
Frank Pahl is a Michigan-based musician/composer, working in several styles including "toy pop", or music made with toys. He works primarily in Wyandotte and Ann Arbor, Michigan, and has exhibited his work in Canada, Europe and Japan, as well as the United States. He has worked in several groups, including Only a Mother, Sublime Wedge, Immigrant Suns, Scavenger Quartet, a freeform musical group, and Little Bang Theory, a "toy" music trio. Frank also builds and exhibits a lot of "automatic instruments."  He is a frequent collaborator with Isabelle, Mark and Theatre Gigante — definitely part of the Gigante family!
Ten Minutes till Bedtime! (2000 – First Stage/Gigante collaboration)
My Elephant Dream (2001, 2004)
Fair & Balanced (2004)
Peter & the Wolf & the One Man Band (2005+)
Woyzeck (2006)
O.O.T. (2012 – recorded music)
Midsummer in Midwinter (2014 – recorded music)
Woyzeck (2016)
The Way Things Go (2017)
Ann Arbor Observer
Avant-garde sometimes equates with in-your-face, but the avant-garde music of Frank Pahl manifests an innocent enthusiasm for pure sound. When I heard Pahl perform, I came away calm and a bit wide eyed. His music was lyrical, rhapsodic — in a word, beautiful.
Detroit MetroTimes
Within the open-eared community of creative music making, Pahl's name is atop the A-list as an innovator, composer and collaborator.  "He's one of American's finest unsung heroes and one of the most creative multi-instrumentalists I've ever heard," testifies Amy Denio of Seattle.
hyperallergic.com
In experiencing the creative output of Frank Pahl, one might argue that what he makes with these machines is ultimately a sound more alive and more spontaneous than a great deal of mainstream pop that is churned out, and his curiosity and joy in creation feels all-too-human.
For more: www.frankpahl.com