HERE'S WHAT YOUR SUPPORT OF GIGANTE CREATED IN 2016!
THANK YOU!!!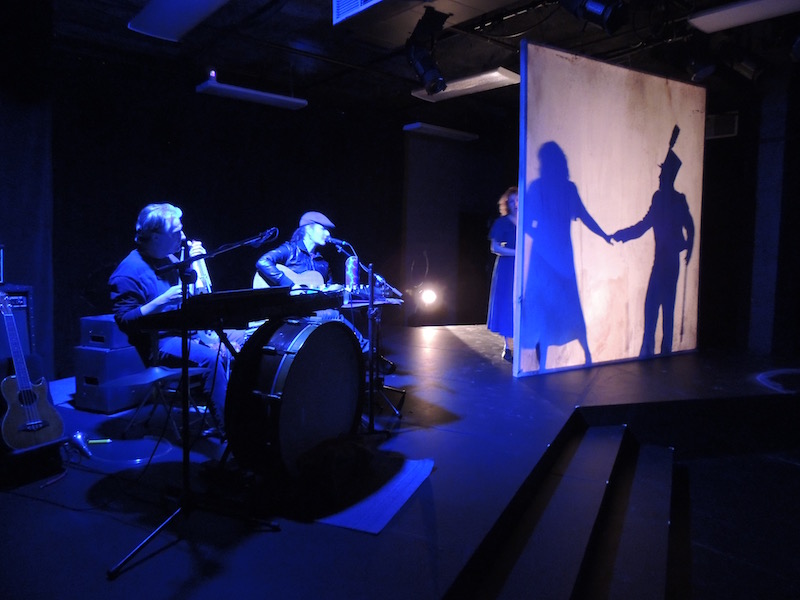 Our first event took place March 4-12, when Gigante presented Georg Büchner's classic expressionist play WOYZECK at Kenilworth 508 Theater.  Adapted by Jim Butchart, this original and innovative Gigante interpretation was infused with music composed by Tom Waits & Kathleen Brennan and was exquisitely performed here by internationally acclaimed artists Frank Pahl and Paris-based chanteuse Christine Zufferey.  Mark, in the title role, was joined onstage by Isabelle, Leslie Fitzwater, Edwin Olvera, and Michael Stebbins.
Theatre Gigante delivers "powerful Woyzeck" in key of Tom Waits… This gorgeous song always sends me, but there's nothing quite like seeing it sung in the context of the play for which it was written, as Kralj and Anderson circle the drain that will claim both Marie and Woyzeck. You've got one more weekend to experience this phenomenon for yourself.                                      Mike Fischer
Do yourself a favor and see something you'll vividly be remembering in 2026. This is a remarkably memorable trip to the theatre.             Russ Bickerstaff
April 4-8 Theatre Gigante performed its PETER & THE WOLF & THE ONE-MAN BAND, created by Isabelle, with Aaron Gardner as the "one-man band," in nine schools.  A resounding success, this Gigante original is presented through the Milwaukee Symphony ACE Program, and reaches approximately 550 first-graders, yearly.
Faculty comments:
-I loved the story and how enthusiastic the artists were.  I really liked how they presented the story and the characters.
-The performers had a lot of energy.  The students were engaged.
-A very clever and creative presentation. The students loved it!
-I liked how it promoted the students imagination as the characters were performing.
-It demonstrated a lot of movement and dancing which is very engaging for the students.
Gigante brought Milwaukee another classic performance June 17 & 18, GUY KLUCEVSEK IN CONCERT, at Kenilworth 508 Theater.  One of the world's most versatile and highly respected accordionists, Guy appeared with Gigante for the sixth time.  The evening was made up of Guy's beautiful and hypnotic music spanning four decades of creative work, performed by Guy and Milwaukee's own treasure, violinist Eric Segnitz.
If you ever get a crack at hearing him live, sell whatever it takes to raise the funds to get there!                                                       Cliff Furnald, CMJ
August 28, Gigante premiered Then and Now and Then, written and performed by Mark as part of Milwaukee's brand new Fringe Festival in Marcus Center's Todd Wehr Theater.  Gigante was thrilled to be a part of the Fringe and hopes this festival will become a Milwaukee theater staple!
Audience comments:
–Mark, thank you for your personal performance tonight. It was the highlight of the festival for me!
–It struck a lot of chords in my own life. Which, in the end, is what it's all about, really, isn't it? Shared experience, identifying with one another, finding commonality in the human experience?
A political comedy, QUORUM, written by Mark, hit Milwaukee for a little pre-election fun, October 7-15.  This very timely piece, actually written 24 years ago, was performed by Mark, Isabelle, and Milwaukee's very talented Leslie Fitzwater, Ron Scot Fry, Michael Stebbins, Bo Johnson, and Jocelyn Ridgely.  Presented at Plymouth Church on Milwaukee's east side, a perfect setting for QUORUM.  A fun time was had by all, with this one, both in rehearsal and in performance, where we were joined by full houses of lively, charged audiences!
We need to show up so there'll be a quorum and we can continue; the fact that the characters in "Quorum" actually do so is testament aplenty to our commitment and ability, against all odds, to somehow carry on together.
Mike Fischer
The silence in a room can only be defined by those who aren't speaking. There's a certain kind of silence that only happens in committee. There's a special kind of silence that only happens in congress. There's a certain kind of silence that only happens in a theater. There's a special kind of silence that only happens at a Theatre Gigante show….  It's an election year. I read about politics. I read about the complete lack of coherent government here and elsewhere. It's frustrating. With Mark Anderson's Quorum, Theatre Gigante does the unthinkable: it makes that kind of frustration fun to watch. In allowing us to laugh at it in the abstract, maybe it can help us understand…     Russ Bickerstaff
On November 12, Marquette University hosted the Milwaukee Theater Summit, organized by John Schneider, one of the founding members of the new Fringe Festival. The panel consisted of Panna Adorjani (theater scholar, Hungary, EU), and Philip Arnoult (Center for International Theater Development); Gigante Artistic Directors Isabelle & Mark; Simone Ferro (UWM Dance Department); Suzan Fete (Renaissance Theaterworks); Malkia Stampley (Bronzeville Arts Ensemble).  Well attended, the event concluded with dynamic audience discussion.
November 17 also brought about a Gigante appearance at the Whitefish Bay Library, as part of the Whitefish Bay Talks series.  The extremely well attended event's topic was – our favorite topic – Theatre Gigante! After a brief talk Isabelle and Mark were joined by two Gigante regulars, Michael Stebbins and John Kishline, in a performance of excerpts from SPALDING GRAY: STORIES LEFT TO TELL.  The audience was high-spirited and enthusiastic, and we all walked away from the evening feeling stimulated!
November/December are the months Isabelle joins four Milwaukee Symphony Orchestra musicians in a school performance highlighting the fundamentals in music and dance.  Ten area schools are visited.  This program, developed for third grade, ends in a lively hand dance the children perform with Isabelle and the musicians, to demonstrate a creative tool that is sometimes used when choreographing.  The program is part of ACE.
On the 9th of December Gigante returned to Boswell Book Company for a reading of David Sedaris' THE SANTALAND DIARIES.  The evening was a free event, open to the public. For theatergoers and bookstore lovers alike, looking for fun fare this holiday season, this was just the ticket!  Gigante performer Michael Stebbins, no stranger to the work of David Sedaris, read this gem of a story – a humorous account of Sedaris' stint working at Macy's Department Store as Crumpet the Elf in Santaland.  A good crowd joined us for this classic, at the intersection of Christmas and retail…enjoying a Gigante performance and picking up some holiday presents from Boswell Book Company…all in one swoop!
We thank you for everything – your friendship, your attendance at our events, for reading this long newsletter, and for supporting us!
Theatre Gigante wishes you a
Happy Holiday Season
CHEERS 2017!!!
Help make many more performances possible.
Join the fun and the celebration! Donate today,
and watch your dollars turn into new art!

to make a donation, click HERE
or mail a check to:
Theatre Gigante
P.O. Box 1999
Milwaukee, WI 53201-1999
THANKS FOR YOUR SUPPORT!