CULTURE CLUB REVIEW
Theatre Gigante Offers Holiday Alternative
"Beautiful and Pointless" provides something different during holiday theater season.

Paul Kosidowski      December 7, 2015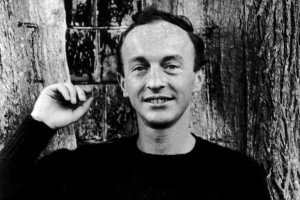 Frank O'Hara
Theatre Gigante has always marched to its own drummer, and this weekend it took a long detoured stroll around holiday traditions with Beautiful and Pointless, an evening of plays by New York poet Frank O'Hara.
I suspect Gigante's Mark Anderson and Isabelle Kralj's attraction to O'Hara is due to his eclecticism. He was a poet, playwright, art critic and curator at the Museum of Modern Art. And like most modernist poet-playwrights, his theater is filled with thrilling language, but skimpy on psychology and other traditional dramatic elements.
But no matter. Beautiful and Pointless brought ten fine actors together to perform five of O'Hara's plays, and there were many pleasures, thanks to some thoughtful ways to approach the material.
In Grace and George, for example, director Kralj decided to have Michael Stebbins read O'Hara's stage directions aloud. And this play about a couple (John Kishline and Deborah Clifton) working out relationship issues came alive with sound and metaphor. Lexington Avenue–a play in which a herd of sheep and subway stop play equally important roles–became a short musical in the hands of Jason Powell, who kicked up the drama to gleefully absurd levels (Powell performed with Erin Hartman). Daphnis and Chloe on a Very Rainy Night, originally staged by the late Ed Burgess, was enlivened by the addition of Stebbins as leather jacketed poet-narrator—think part Wallace Shawn and part Lewis Black—who brought some tongue-in-cheek solemnity to the story of the mixed up mythological couple (played by Kralj and Mark Anderson).
The first two plays, Try! Try! and Change Your Bedding!, were played mostly straight—the first as a melodrama about a cuckolded soldier returning home, and the second a family drama played in Japanese Noh style. The stories were legible, but the real pleasure was in the pure wash of O'Hara's lovely language, spoken by talented actors (Kat Wodtke, Stebbins, Evan James Koepnick, Tom Reed and Kralj).